while building this website I once again went though boxes of old negatives looking for "one shot" that somehow had never been scanned. Many old negatives have simply disappeared. I still haven't found that one but have come across some other interesting things. This shot probably dates from early 1966, although it could be older, and is one of my earliest surviving SP negs. I shot it in the Mamaroneck train station while waiting for the train into the city.
Looking at old photos I see how much society has changed in such a very short time. Forgetting about technological advance, people are simply different. In the 1960's men wore hats, one of our last colonial traditions. Cigarette were chic and you could smoke anywhere. What a curious idea to put a scale in the waiting room. "Hmm, I have a few minutes until my train gets in, let's see how much weight I have put on." Look at that chunk of plaster missing next to "No Loitering" and the chipped paint on the scale. As noted in the post, Anthropology 101, no self-respecting municipality would tolerate such a shabby public appearance these days. In 1966, had this photo been taken 500 miles south, instead of "No Loitering", it would have said "Whites Only."
Street photography too has changed. That being noticed by the jurors at festivals and competitions seems more concerned about the picture than the subject. When I see old photos it makes me think about time and I wonder how well these new images will stand the test of time. How will they look in fifty years? Will they appear quaint in their depiction of a world gone by or will they be so stylish as to not say anything about the time in which they were made?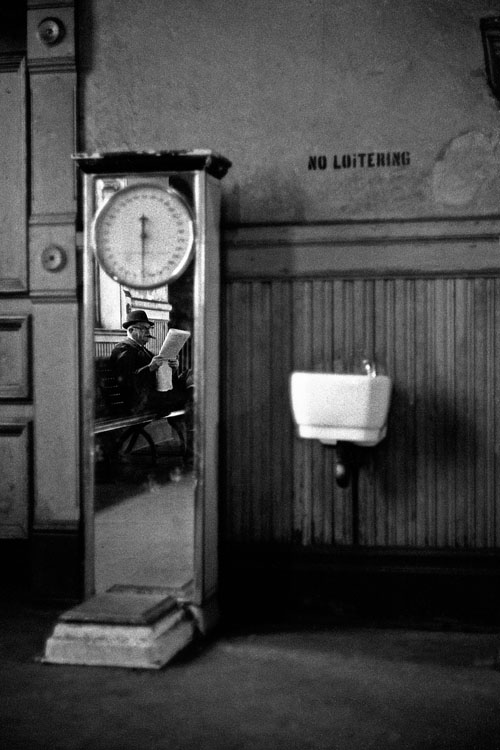 posted by Greg Allikas, March 4, 2018