I had a Brownie Starflash when I was a boy. I remember taking pictures of the tigers at the zoo. I first used a real camera my junior year of high school. It was a 35mm Auto Taron rangefinder. Destined to be an artist, I borrowed the camera from my father to take reference photos for my painting. My dad also had an enlarger and a bunch of darkroom stuff so I set it up in the basement. It all came very naturally to me. The summer I graduated from high school I took a life drawing class at the Art Students League. I'd take the train from Mamaroneck into Grand Central Station then walk up to West 57th Street a different way each day I had class. Sometimes I had the camera but then, I didn't know I was a photographer yet. I got a job at a midtown art studio that produced sales presentations on slides, charts and film strips. In the fall I started night classes at Pratt Institute majoring in advertising design. Once I started going into the city five days a week it wasn't long before I decided I needed my own camera and bought a Miranda F 35mm and a couple lenses. I started taking photos but I didn't know it was street photography. I don't think it was called that until the New Documents exhibit at MOMA a few years later. Not many of those early negatives survive my moves over the years. My perfect education consisting of practical and academic experience didn't last long. The summer of 1966 I received my draft notice.
Fast forward three years. After being honorably discharged I moved to South Florida where my parents had relocated. I met up with a guy I met in the Air Force and in 1970 we opened a commercial photo studio in West Palm Beach. I had done some street photography in Austin where I was stationed but my situation in Florida was even more conducive. I had lights, camera action…and a nice darkroom!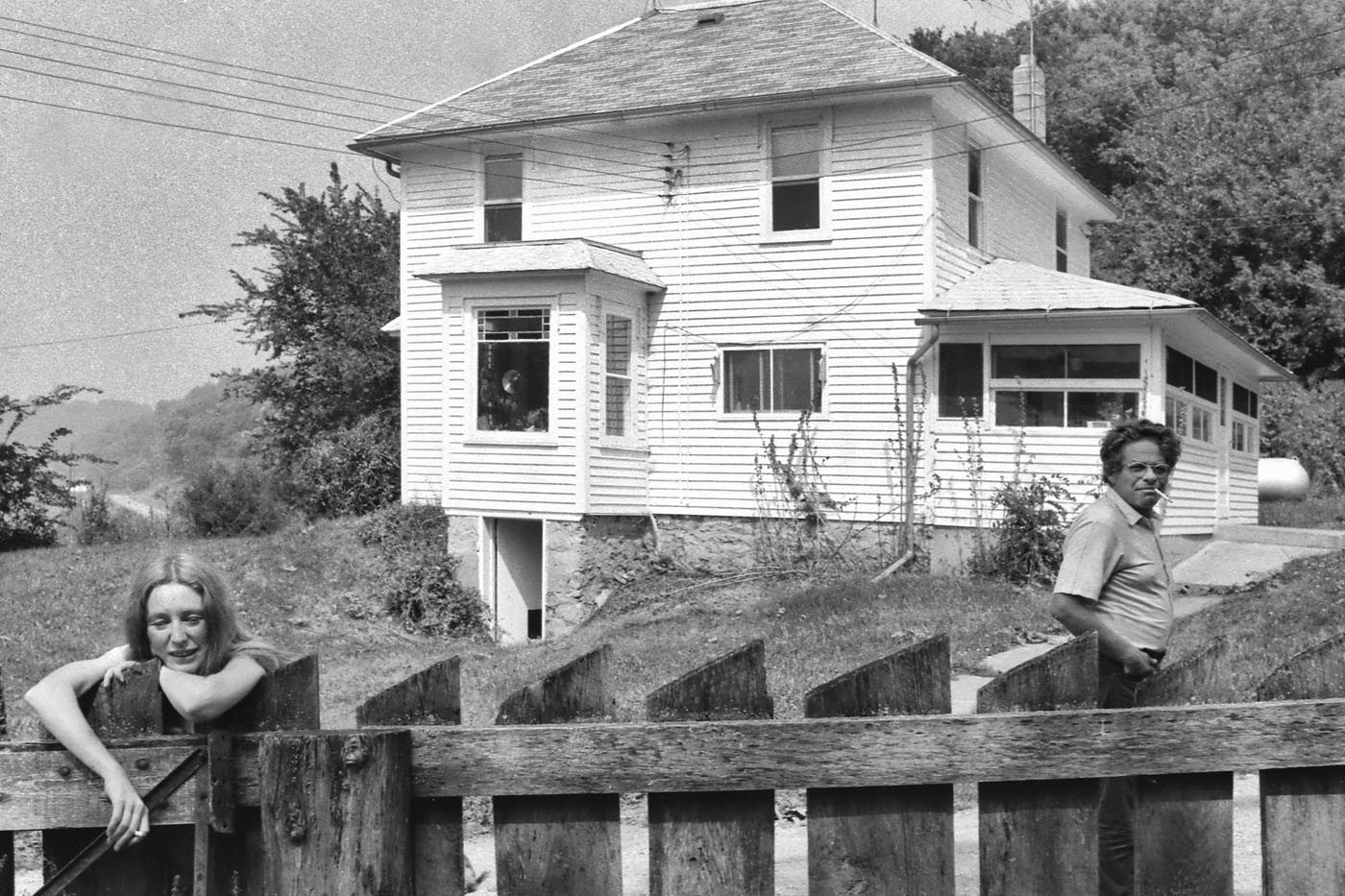 Elaine and Garry Winogrand, 1973
In 1973, on a whim, I signed up for a week-long workshop with Garry Winogrand. It was at Peter Gold's "Country Photography Workshop" in Woodman, Wisconsin. Remember, in 1973 photography was barely considered art and rarely hung in museums. The New Documents exhibit which launched Arbus, Friedlander and Winogrand was only six years earlier and I don't remember hearing the phrase "street photography" being used to describe their work.
Winogrand's point of view of what a photograph actually is, was bizarre, yet infinitely true. Light on surface. Period. We would go out shooting to the small towns in central Wisconsin, Prarie Du Chien, Dodgeville, Lancaster...come back and process our film and make work prints, then critique the work after a family style country dinner. It was a great period of growth for me and the train ride there and back was an adventure in itself. It is only now, many years later, that I can truly appreciate the impact of the experience.
Palm Beach Daily News, January 21, 1974, editorial feature "Through the Camera Lens" full-page spread (six photos).
Expression magazine, West Palm Beach, May 1977, "Couple, Austin 1967", "Haverhill, MA 1977"
Eclectic magazine, Palm Beach, winter 1977, "Two Gods"
Oxford American, Spring 2013, "Soul City 1974"
Inspired Eye magazine, Winter 2013, interview, 20 pages
Observations vol.1, no.1, 2016, 12 pages
Observations vol.1, no.2, 2016, "Fear", 16 pages
Observations vol.2, no.1, 2017, "Home", 8 pages
Florida State University, Talahassee, summer 1974, 30 photos, student union
Palm Beach State College, Lake Worth, spring 1977, 30 photos, student union
Palm Beach Photo Salon, Armory Art Center. October 2009, "Vanishing Florida", two photos
Miami Street Photography Festival, December 2014, featured collcetive
Städtische Galerie, Iserlohn, Germany, 2015, Observe collective
Städtische Galerie, Iserlohn, Germany, 2017, Observe collective